Photo: Christian Vierig/Getty Images
Hair
It's also nearly impossible to avoid—here's how to manage it.
Three months after welcoming her son, Jade Kendle-Godbolt's hair started falling out. "It wasn't just shedding. I was losing my edges completely," the Dallas-based YouTuber tells Coveteur. Though she experienced some hair loss after her first pregnancy with her daughter, just 15 months prior, this time was more intense. She was alarmed when clumps began to fall out at the 12-week mark. "I was breastfeeding both of my kids, so I think that had a part to play in it. But with my son, the shedding started a little bit earlier and it was definitely a lot more noticeable."
For L.A.-based mother-of-two and RANAVAT founder Michelle Ranavat, seeing strands fall away felt "jarring," but she didn't fully take in the depth of her postpartum hair loss until she started getting comments from family and friends and saw a photo of herself. "I was like, 'Wait, what? This is my hair right now?' she tells Coveteur. For Ranavat, this was a wound with depth. "I feel like, especially with Indian culture, so much of our identity and our perception of beauty is really connected to our hair," she says.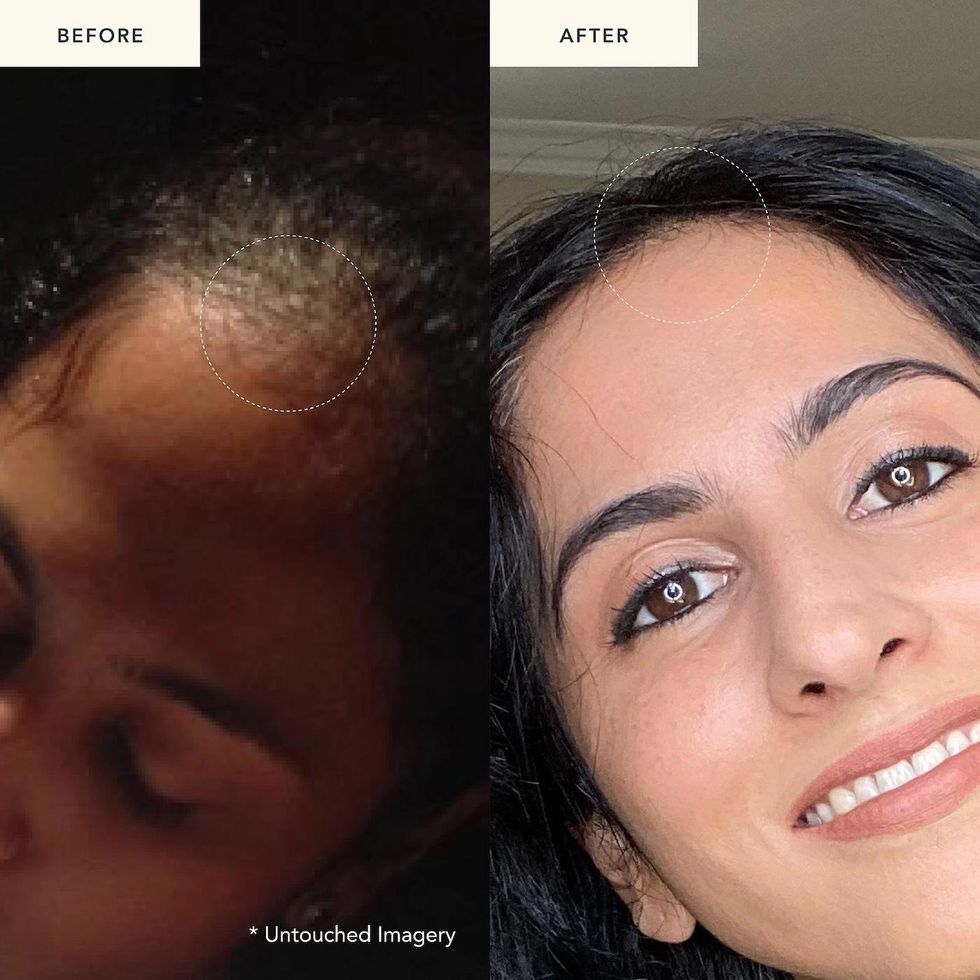 Michelle Ranavat while experiencing postpartum hair loss (L) and after treating it with her ayurvedic serum (R).
Photo: Courtesy of RANAVAT
Both Ranavat and Kendle-Godbolt experienced textbook postpartum shedding. Certified trichologist and hairstylist Sophia Emmanuel says that this is a reactionary process to the hair growth that is often experienced during pregnancy. "When you are pregnant, you have higher estrogen levels, which allows your hair to stay in the anagen hair growth phase (the active phase where new hair grows) longer, slowing down shedding. This is the reason some women notice more hair growth while they are pregnant," she explains.
When the estrogen levels that peak during pregnancy begin to decline after the baby arrives, hair begins to shed. "The hairs that spent more time in the hair growth anagen phase while you were pregnant shift into the telogen phase, causing your hair to fall," she adds. For new parents, this is yet another aspect of the postpartum experience that's shrouded in mystery. It's known and talked about, but often only in fragments, so new parents are left to navigate yet another identity shift—on top of welcoming a new child, experiencing body changes, and adapting to a scarce sleep schedule.
We spoke with trichologists Sophia Emmanuel, Shab Reslan, and Helen Reavey, as well as Dr. Andy Goren, chief medical officer of Daniel Alain, to learn more about treating postpartum shedding—and why it's almost impossible to avoid it.
Is Postpartum Hair Loss Stress-Induced?
"Postpartum hair loss is not well understood; however, it is akin to stress hair loss," Dr. Goren tells Coveteur. He compares this to the hair loss that people often experience after surgeries or serious accidents. "Hormones may play a part in postpartum hair loss, but it may be indirect, like effecting stress mediators."
But it's not necessarily the stress of having a newborn that's to blame here—it's deeper than that. Celebrity hairstylist, trichologist, and Act+Acre founder Reavey points out that this type of hair loss is often only "during postpartum, [when] your estrogen level can drop significantly below regular levels, leading to more hair loss than usual," she says.
As hormones balance out and the anagen phase abruptly moves to the telogen phase, the excess of hair turns into a deficit. "[New parents] are essentially losing all of the hair they were supposed to shed normally and that's when the results can sometimes be shocking to new moms," Reslan adds. While stressing out isn't the root cause of postpartum hair loss, it can exacerbate it, so keeping stress levels low and prioritizing self-care are important. "The stress can make hair loss worse." Emmanuel explains. "Make time for self-care, eating healthy, and sleeping well because having a baby can pose challenges in these areas, which can encourage hair loss as well."
This type of hair loss will most likely begin three to four months postpartum and the amount of hair lost will vary from person to person and from pregnancy to pregnancy, as Kendle-Godbolt experienced. But thankfully, it isn't forever.
How Long Does Postpartum Hair Shedding Last?
Though postpartum shedding is unpleasant, thankfully it doesn't last long. For both of Ranavat's pregnancies, postpartum shedding subsided by her babies' first birthdays, which, by Dr. Goren's standards, is perfectly normal. "Postpartum hair loss is usually a transient phenomenon and hair regrows six to 12 months after childbirth," he says.
Can Postpartum Hair Loss Be Avoided?
Unfortunately not. "There is no way around it," Emmanuel says. While this sounds harsh, the main factors triggering postpartum hair loss are beyond our control—the increase of estrogen during pregnancy is key to ensuring a healthy baby and the decrease postpartum helps the body return back to normal.
Reslan says that tapping into integrative medicine can, however, lessen the effects of postpartum shedding. Specialists typically take a more holistic approach to wellness, which would help "to help balance out your hormones as best as possible through supplementation and detoxing to prepare the body for the shift in hormones occurring during pregnancy and postpartum," she explains.
Keeping hair tension low during pregnancy can also pay off, Dr. Goren adds. "[A] healthy diet combined with healthy hair habits like reducing the use of extensions, braids, and ponytails are always advised to reduce risk of hair loss," he says.
Which Hair Styles Hide Postpartum Hair Loss?
Get your tail comb out—Reavey says that parting is the easiest way to disguise hair loss. "In most cases, a center parting will help with this, and if you're feeling up to it, ask your stylist to give you some soft-feathered layers around your hairline to thicken it. This will also allow for a cute style while the new hair is growing back," she recommends. While experiencing postpartum hair loss, Reavey says that it's best to avoid tight ponytails and excessive heat. "I also recommend avoiding silicones that are found in most conditioners and styling products—these might help with taming frizz, but they also flatten the hair making it appear thinner than it is," she says.
While styling hair, it's important to keep scalp health top of mind. "A very important step that can be overlooked is to keep the scalp clean," Reavey adds. She recommends keeping a scalp treatment on-hand "to ensure the scalp is free of excess sebum and dead skin to ensure the optimal blood flow to the new hair follicle that is about to come back."
Which Supplements Help With Postpartum Hair Loss?
As she nears the end of her third pregnancy, Kendle-Godbolt says that she's going to manage postpartum hair loss by staying on top of her supplements once the baby arrives. "I'm going to switch out my prenatal for a multivitamin and I'll still be taking a probiotic for my gut health, which is super important." During her last pregnancy, her midwives recommended that she try drinking chlorophyll water and she found it so beneficial during pregnancy that she's going to continue drinking it "like 24/7," she says.
Reavey recommends taking supplements that are high in biotin, amino acids, and Vitamin C, as they're each known to "help maintain hair follicle health and promote stronger hair," she explains. "From there, I recommend treating postpartum hair loss by taking hair capsules daily, incorporating a weekly scalp treatment into your routine, and making a point to give yourself scalp massages."
Which Hair Products Help With Postpartum Hair Loss?
First and foremost, it's important to remember that products won't alleviate postpartum hair loss entirely. "Hair products will help with the look and feel you are trying to achieve for your hair and external factors, such as helping to minimize hair breakage or help your hair feel soft," Emmanuel says. "But hair products will not fix problems with hormonal fluctuations and their effect on your hair."
Hair Serum
When Ranavat experienced postpartum hair loss, she turned to ayurvedic scalp oiling, which inspired her namesake haircare brand. RANAVAT's Fortifying Hair Serum was inspired by the oil blend that she created to treat her shedding. The formula is packed with amla oil, sunflower oil, and jasmine to manage breakage, boost shine, and strengthen the scalp.
Scalp Treatments
On the topic of scalp health, Reavey recommends Act+Acre's pre-shampoo Scalp Detox. "The plant-based formula gently exfoliates the scalp and uses basil leaf extract to stimulate blood flow to the hair follicle, promoting a stronger follicle and balanced scalp biome," she explains. The increased blood flow can prompt growth to quickly replenish the strands that are lost due to postpartum shedding.
Reslan says that new parents experiencing postpartum hair loss should also try The INKEY List's Glycolic Acid Exfoliating Scalp Scrub—another pre-shampoo scalp treat. "It's important to maintain a healthy scalp environment to not only encourage healthy and uninhibited hair growth, but also successfully absorb nutrients from any scalp topical and growth assisting product," she says.
Shampoo
"When looking to buy postpartum shampoos, I recommend opting for sulfate-free formulas that work to keep the scalp microbiome balanced, giving the hair the best opportunity for growth," Reavey adds. She suggests opting for formulas with ingredients like rosemary oil, lavender, ginseng, peppermint oil, and basil leaf extract. "These ingredients work to promote hair growth while stimulating blood flow, ultimately strengthening the hair follicle."
Testing
If postpartum shedding is particularly troubling to you, Dr. Goren suggests getting more answers. "Based on the results of the study of cortisol (the primary stress hormone) and postpartum hair loss, it may be informative to take the Daniel Alain Cortisol Test for Hair Loss," he suggests. "This test may provide insight to the cause of postpartum hair loss, the risk for an individual, and perhaps suggestion of a treatment. I recommend the Daniel Alain Minoxidil Response Test as it is the first and only at-home diagnostic test that will alter how you treat your hair loss." Essentially, the test determines if hair follicles have the necessary enzymes to grow more hair. The only caveat? You can't take Minoxidil while breastfeeding.
Shop the Story:
RANAVAT
Perelel
Briogeo
The INKEY List
Act+Acre
Nutrafol