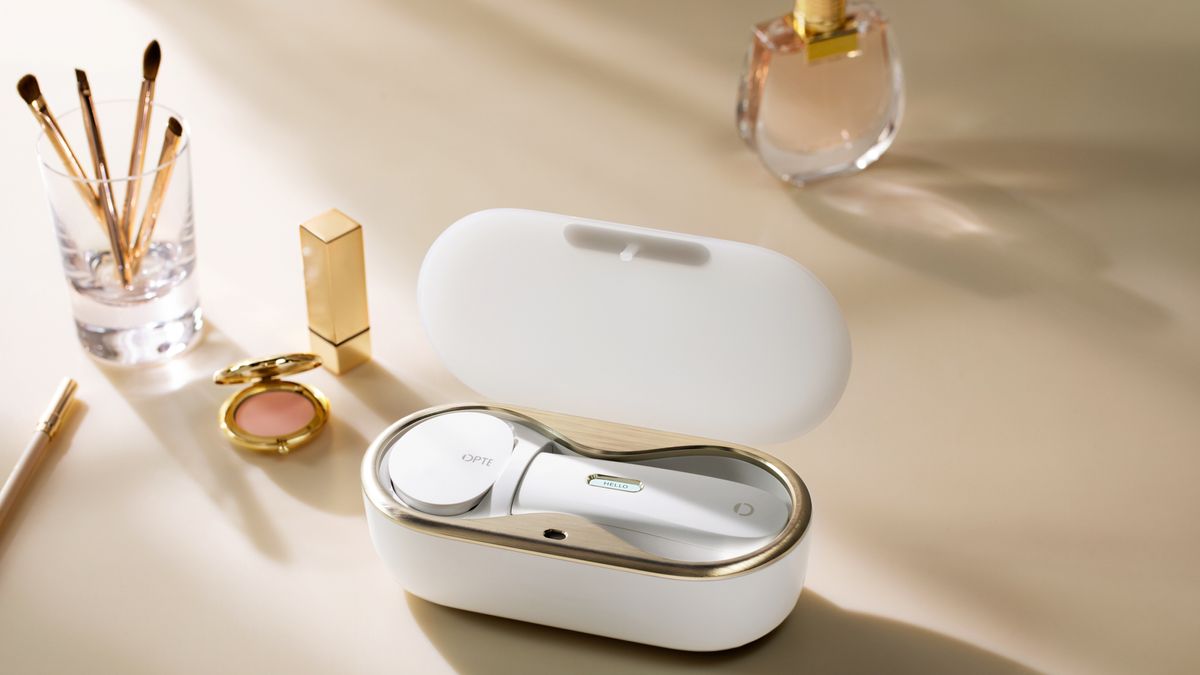 Skin
Meet the OPTE device.
Whether it's viewing movie premieres from the comfort of our homes or AI bots that can order you groceries without so much as touching a button, technological advancement continues to bring us closer and closer to a lifestyle that can only be described as
effortless
. Of course, there are repercussions to allowing technology so heavily into our lives (ahem,
The Social Dilemma
), but I won't touch on that today. Today I want to talk about how these newfound technologies are rocking the beauty industry.
OPTE recently released its Precision System, which uses printer technology to camouflage post-inflammatory hyperpigmentation, age spots, and sunspots. The device took about thirteen years to develop, and the team even consulted the head of camouflage at the Department of Defense when creating this (
very
fancy). The system retails at about $600, which makes me wonder,
why should I use what is essentially a makeup printer on my face when I can just swipe on a $15 concealer and call it a day?
Well, there is no better way to find out for myself than by testing it out. But before going into my personal experience with it, here are a few specs about the device.
---
Opte
How Does It Work?
The team at OPTE knows that hyperpigmentation,
dark spots
, and age spots come in all different shapes and sizes. So how does the device work to target these and achieve the same desired (read: flawless) outcome? Matt Petersen, CEO at OPTE, tells Coveteur, "We had developed an algorithm for each device so that it knows [what the pigment is] as it's scanning over your spot. A blue LED light picks up hyperpigmentation versus the natural color of your skin while it's taking 200 photos. Simultaneously, it is processing it through 70,000 lines of code to know where exactly to deposit the serum on your spot and how much to deposit. The ability to affect skin brightness across very specific areas, with geometric precision, removes the inherent problems of traditional makeup by focusing on the exact shape of the spots or patches and changing them in a natural way."
After scanning any discoloration in the skin, the device uses printer technology to deposit a serum that contains the perfect mixture of yellow and red pigments, plus a pigment shade close to your natural skin tone, onto the spot to create a perfect match. Think of it the same way a paint store mixes blue, red, yellow, and black pigments into a white paint bucket to achieve your preferred paint color for a home makeover. The device can only deposit pigment on dark spots that are smaller than a dime, meaning that it won't cover any skin that is free from discoloration. It truly camouflages the dark spots, and dark spots only, leaving you with a nearly photoshopped look to your complexion.
Why Use It?
Luckily, the device deposits more than just pigment onto these dark spots. The team at OPTE understands that it isn't enough to simply cover up an unwanted dark mark with makeup. Along with complexion pigment to cover the look of spots, the proprietary OPTE serum contains ingredients like niacinamide to fade dark spots over time, sodium hydroxide to
balance the skin's pH
, and propylene glycol, a humectant, to help hydrate the skin. That means that along with the immediate effect of a picture-perfect canvas, this serum works to gradually fade dark spots and create a supple texture in the skin.
Petersen also claims that since this tool only targets hyperpigmentation, depositing the niacinamide-infused serum and a billionth of a liter of pigment each time it scans over a dark spot, we are only treating the areas that
need
coverage, leaving the rest of the face makeup- and crease-free. That means we're better able to tackle the skin issues at hand without unnecessarily applying lightening products to the rest of our face.
Dr. Dendy Engelman
, board-certified dermatologist practicing at Shafer Clinic, agrees and says this type of application "makes sense. I love the concept of specifically targeted topical therapy."
As far as who can use it, the simple answer is everyone. Says Petersen, "It's putting such a small amount in such a precise amount that it wouldn't really clog your pores. And what we found [that] is really interesting is that it's made to be really gentle on your skin. So if you have very sensitive skin, it works. If you're pregnant, it works. It's supersafe." Dr. Engelman adds that the only people who really should avoid this tool are "[those] who have sensitivities or allergies to the ingredients in the serum."
And although tackling hyperpigmentation in darker skin tones takes a bit more time and care due to the higher number of melanocytes in the skin, Petersen ensures that this device will work on hyperpigmentation across all skin tones. Although they don't have specific studies for darker skin tones, the testing phase included subjects with a range of skin tones. Petersen states, "Because OPTE is not trying to shade-match the skin but instead camouflage areas of hyperpigmentation, the device can work across an incredible range of skin tones."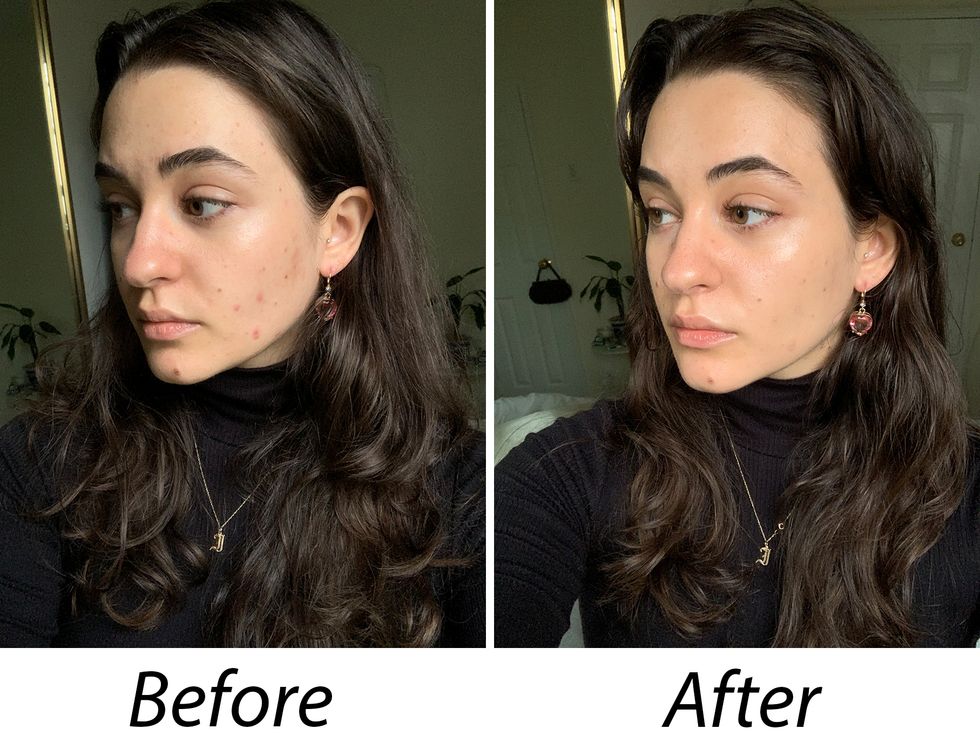 Photo: Isabella Sarlija
My Experience
When I first received this device in the mail, I truly felt as if I had been given a gift by a 21st-century mad scientist. The kit includes the application wand, a serum insert that resembles a printer ink cartridge, and a power cord to connect the charging box. Its charging box looks like a big pill, which fits in my hands really well and sits beautifully on my vanity along with my other futuristic-looking tools.
After charging it, I first determined where to run the device: I have a few sunspots under my eyes and some intense post-inflammatory hyperpigmentation on my cheeks that always require a few layers of concealer. When I ran the tool across my face, I noticed that it clicks every time it runs over a dark spot. Petersen explains that the click happens whenever the device detects discoloration in the skin—this is how you know it's working. Although I
thought
the skin I was running the tool across was blemish-free, I was surprised to hear how many times it clicked. The wand uncovered dark spots that I couldn't even see myself. I was impressed by how sensitive the tool is to discoloration.
Initially, I ran the tool across my face quickly and with pressure. I found that it was doing nothing for my hyperpigmentation and instead making my skin red. According to Petersen, this is completely normal, as he explains, "It takes most people on average seven to 10 days to actually use it right because we're trained to do things like go quickly or push hard because we think abrasion actually helps with hyperpigmentation."
The correct way to use this tool is slowly and with pressure so light that Petersen compares it to "running a feather across your skin." So I adjusted my supersonic speed and pressure. This was nice, as I found myself slowing down in the morning (which is ideal for someone like me, who has trained herself to rush every single morning of her life). At first I noticed that it had covered up all of my signs of sun damage and past pimple picking well, but I just thought, 
Meh
.
I then hopped on an hour-long Zoom meeting, and by the end I truthfully forgot that I had put anything on my skin (much like most people do when they apply makeup). After the meeting had concluded, I took a quick glance at my skin and exclaimed, "WOAH!" I could not believe how smooth and perfect my skin looked. It was as if I had taken a Magic Eraser sponge and cleaned up every little sign of damage. Other than when I was a little kid, I've never had such an even complexion without using a full-coverage
foundation
.
And the best part is that it looked completely natural since the only parts of my face that sported pigment were the ones that needed coverage. I saw no caking around my forehead, nor did I have to deal with melted foundation settling in the crevices of my nasolabial folds. All I saw was my skin looking like skin—nothing too shiny or product-heavy. After a few spritzes of a hydrating setting spray, my complexion was even, dewy, and best of all, natural-looking.
Is It Worth It?
Now, let's cut to the chase—should you purchase a $600 printer to cover and treat your dark spots? Despite the hefty price tag, I would recommend this product to anyone looking to decrease the signs of pigmentation in their skin, whether you are battling age spots, sunspots, or dark acne scars (like me) because it works immediately to cover up scars while working over time to diminish them completely. Although OPTE is $600, it will last you a lifetime, which is far less than what you would pay for foundation (cumulatively speaking).
The Optimizing Serum lasts for approximately ninety uses, or about three months, and the refill costs $129, which is reasonable considering that this serum contains both makeup and skin-care benefits for dark spots. Dr. Engelman sums it up perfectly: "If [people are looking to cover age spots and hyperpigmentation without the need for a traditional foundation], it is certainly effective. [It's] hard for me to weigh in on what is someone's investment tolerance and budget for beauty, but I always do counsel patients [that] if it makes you feel better about the skin you are in and you can afford it, go for it!"
Top photo: OPTE
Want more stories like this?
The 6 Best Dark Spot Correctors for Black and Brown Skin
I Tried an At-Home Laser Treatment That Costs More Than My Rent
The Best Over-the-Counter Ingredients to Fight Dark Spots, According to Your Dermatologist