Living
The 25-year-old responsible for some of your favorite nightlife events is proving that NYC is alive and well—one night out at a time.
Caroline Leopold
Someone once told me that the difference between "cool" and "chic" is that cool is of-the-moment, whereas chic is timeless. If this holds true, then Caroline Leopold epitomizes the former, although her laid-back style vouches for an element of the latter as well.
Born and raised in New York City, Leopold has mastered the art of a well-curated social life. At the age of 25, she took on the role of director of programming for some of the city's hottest spots: Pebble Bar, The Jane, Georgia Room, and Ray's, to name a few—all notoriously hard to get into and full of young New Yorkers with people to see and places to be. As the first in her role, Leopold admits she's figuring much of this out as she goes, but the gist is that she comes up with event ideas, executes them, and gets a great crowd to show up time and time again. Manning ship at any one of the establishments on Leopold's roster would be impressive—let alone four of them.
Leopold has been frequenting New York's it-clubs and bars since college. Wanting to get through the door with little fuss and a lot of friends, Leopold started taking over tables at clubs in exchange for bringing in the large crowds that tend to follow her lead. "This was purely for fun—I could get paid, I was going to go there anyways, my friends would get excited. It was really perfect," she says. "I cracked into this backdoor situation kind of by accident."
Leopold dancing with a Mariachi band outside of Ray's Bar.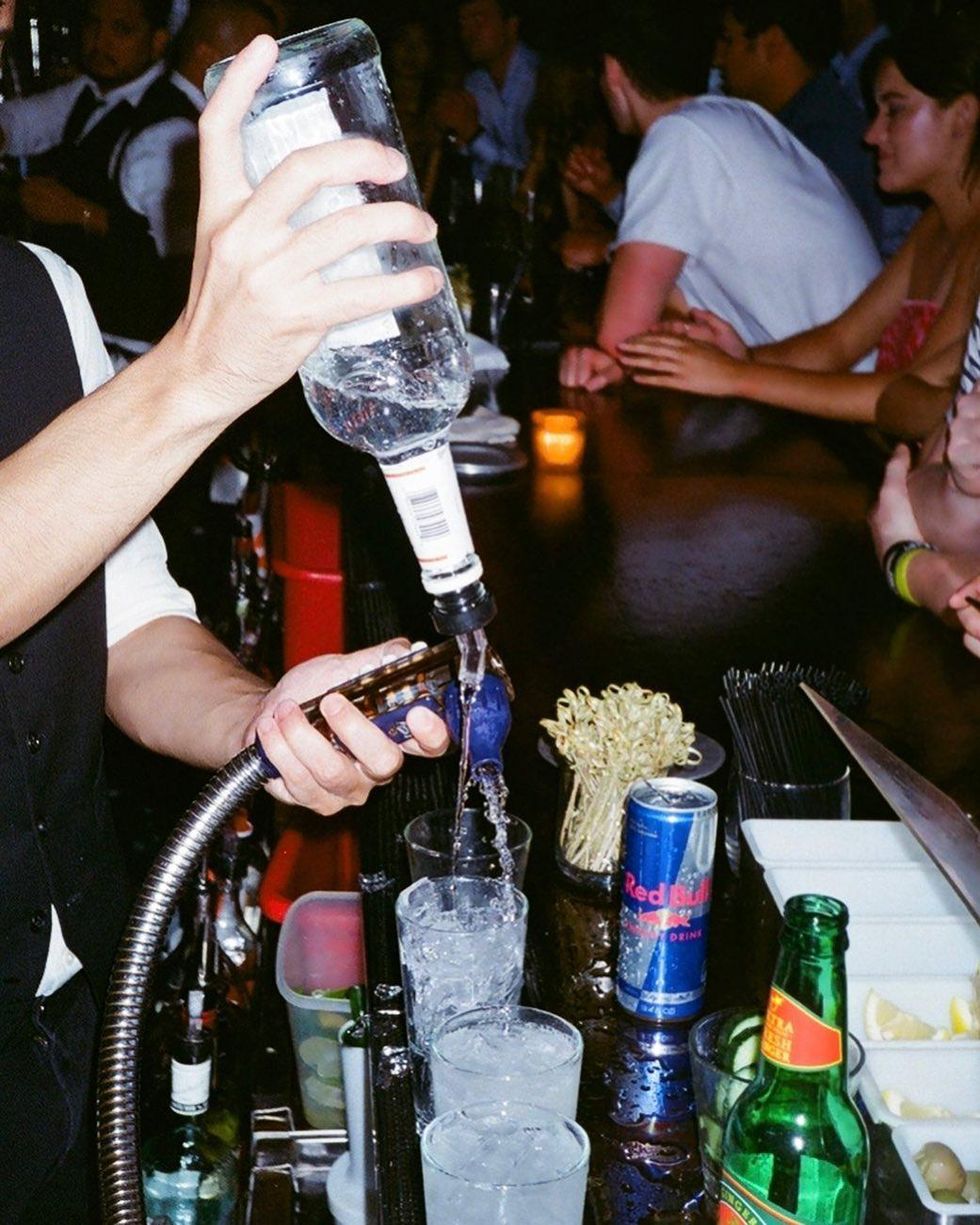 Drinks being poured inside Ray's Bar.
When this seemed to work, she realized that it might be feasible to rent out the entire place, promising a packed house and high tabs in exchange for more control over the guest list (although each event still remained open to the public). "You've gotta just ask. I realized as a young woman who has her shit together and loves going out, I was valuable [to them]."
With more and more events under Leopold's belt, she realized that they might need an official name. She decided to dub them "Unnecessoirées," which translates to "unnecessary" in French (as in a party for no reason). As luck would have it, only one of her official events took place before COVID-19 upended New York nightlife, but Leopold didn't let this get her down. She used the downtime to brainstorm new partnerships and events, and as the world began to open back up, more "Unnecessoireés" took place—each meticulously documented on her Instagram account through retro film photography that embodies Leopold's aesthetic.
While Leopold curated the bulk of the guest list, she posted about events to the public so that they could join in as well. "I love bringing people together. It didn't feel like work at all—there are so many ways to collaborate with different people," she says. "After I did one, two, three [events], bars started reaching out to me." With her "Unnecessoirée" Instagram as well as her personal account gaining traction, more and more brands and founders began reaching out to her about collaborating on events, one of which being the team at Ray's—all while balancing a job as a project manager on the side. She quickly realized that this could become a full-time gig, and it did.
Branding for Leopold's 'Unnecessoirées."
I discovered Leopold when my Instagram feed became filled with coverage from her events. But when I got in touch with her about tagging along during a night out for this story, I had no idea what I was getting myself into. I'm admittedly quite lame–I'll talk about a night on the town when I've stayed out past 2 a.m. for weeks afterwards. This particular night out had a minimum of three establishments on our schedule and a steady flow of drinks to boot. On our itinerary was a stint at the newly-opened Pebble Bar in Midtown, the chic-but-divey Ray's Bar in the Lower East Side, and Georgia Room, the bar-nightclub hybrid attached to the Freehand Hotel. We met first at Pebble Bar for a quick interview, which is where I learned about how Leopold got into the business in the first place—and as the minutes ticked by, the notifications on her phone increased. Friends texting with lists of names, requests for tables, questions about the goings-on of the evening—she truly was orchestrating a night to remember.
At nearly six feet tall, Leopold has a magnetic presence, and her seemingly effortless sense of style adds to her aura. When I ask her how she gets dressed for an evening at work, she says she's still figuring that part out. "I never know when I'll be back home or where I'm heading to next, so it just has to work," she explains. This roll-with-the-punches outlook has served her well not only in style, but in approach, as her events seem to come together in an a way that defines the meaning of effortlessly cool.
Leopold then tells me that she began receiving so much positive feedback and input that she decided to hold "office hours" during a block of time each Wednesday evening at Ray's Bar. Her door was open to anyone who wanted to discuss potential events, theme nights, music, you name it—and to no one's surprise, these hours proved to be a great success.
The crowd at The Jane.
A friend and Leopold during a night out.
After we wrapped up our interview, we set out for Ray's Bar. The vibe is laid-back, but there's a sense of eagerness amongst the crowd, and everyone seems to know everyone. While you might think that making it through an evening this packed with social interactions would require some liquid courage, Leopold makes it a point not to drink on the job. She's sipping Red Bulls in the corner while mingling, and that's when it hits me that this truly is a work day for her. I comment about her ability to remain professional in such an unprofessional environment, but she doesn't seem phased. "Weekends are a lot more precious when you work a traditional nine-to-five," she says. She spends the next hour mingling with co-workers and patrons—always seemingly cool, calm, and collected while knowing everyone in the room. Whether this is a fact or illusion is unclear, which sums up why she's so good at this to begin with.
By the time we make it to Georgia Room, it's nearly two in the morning and I'm fading fast. I'm equal parts amazed at Leopold's stamina and anxious about my ability to simultaneously remain vertical and socialize for another hour. But Leopold soldiers on, introducing me to a few "fixtures" in the crowd, dancing like there's no tomorrow, and encouraging everyone else to dance along with them. It's clear that Leopold knows exactly who to call when she needs to infuse a certain energy into a room, which proves her title of director of programming makes perfect sense.
Partygoers at one of Leopold's events.
With such a successful run directing the goings-on at some of Manhattan's most sought-after spots, Leopold realized that she could widen her affinity for event planning to a whole new scope. This summer, she's decided to take the leap and start her own venture—curating her own events at her leisure. Instead of working for a set roster within a hospitality group, she takes on freelance clients and has more flexibility.
A DJ at Ray's Bar.
There's no shortage of shenanigans at Leopold's events.
"The activations I'm working on are all incredibly different, so the current customer really is everyone. I'm sure that sounds like a platitude, but it feels true when the content and context of each event is always changing," Leopold says. "These projects range from shows to pop-ups, branded events, you name it."

That doesn't mean she has cut ties with NYC nightlife altogether. She's still frequenting her favorite spots, bringing the crowds, and directing the programming for the evening. "There's a lot to look forward to, so I'm really thrilled for this next chapter," she says. Cheers to that.